All Places stayed or visited: Zoom to view

Symbols Used:
Caravan Park
Campground
Freedom Camp
Town
Place of Interest
Private Dwelling
MAPS on this page:
All maps can be zoomed in and out with the mouse, as you zoom in all the "clustered" icons will separate and most are clickable and link to a related blog post from "Our Travels".
Map List -Click each to jump to that map:
2014 Shakedown Trip
2015 Alice Springs to Brisbane
2016 The Rest?
2018-1 Lowood to the Murray River
2014 Queensland Loop
2015 Queensland and NSW Loop
2017-1 Western NSW
2014 Brisbane to Alice Springs
2016 Darling River
2017-2 Brisbane-Cairns and Return
---
2014:
Shakedown Trip
Starting from Laidley Caravan Park, North via Toogoolawah and Linville to Blackbutt.
Return to Olivia's via Wodford and Pine Rivers Showground at Lawnton.
2014:
Queensland Loop:
North via Kenilworth to Inskip Point, back inland via Glastonbury to Biggenden then via Wongi State Forest to Hervey Bay.
South via Kilkivan, Kingaroy and the Bunya Mtns and Goombungee to Ipswich
104 DAYS – 3123Km TOTAL – 1434Km TOWING
---
2014:
Brisbane to Alice Springs
Following the Coast to Townsville then via Hughenden, Richmond, Julia Creek, Cloncurry, Mount Isa and Camooweal into the NT.
From Three Ways via The Pebbles and Tennant Creek to Alice.
159 DAYS – 5405Km TOTAL – 3916Km TOWING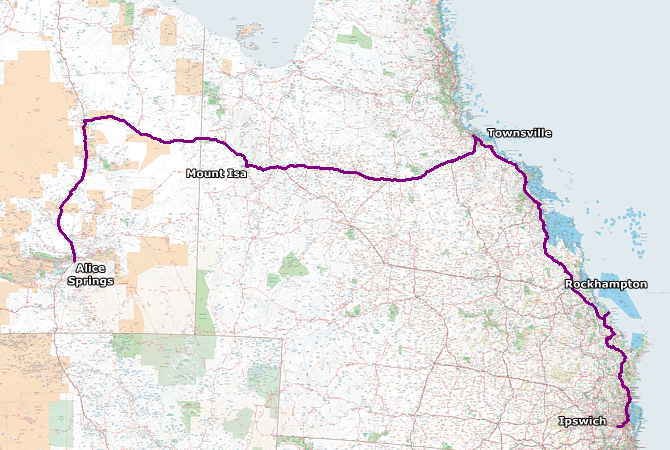 ---
2015:
Alice Springs to Brisbane
A quicker return via Camooweal, Winton, Longreach and Roma.
Turning North at Dalby to Deception Bay via Yarraman and Woodford.
In Alice: 197 DAYS – 1918Km TOTAL      Return Trip: 13DAYS – 3461Km – 3442Km TOWING
---
2015:
Queensland and New South Wales Loop
An anticlockwise loop going North as far as Kalpowar Forest and Monto. Crossing into NSW at Goondiwindi and then South to Gunning returning via Glen Davis, Gunnedah and North from Uralla to the Southern Darling Downs.
133 DAYS – 5326Km TOTAL – 3602Km TOWING
---
2016:
Darling River
Starting at Ipswich to Kalbar and back for Condamine Gorge; then along the Condamine via Warwick,Chinchilla to the Balonne through St George and South to Bourke, Louth, Tilpa and Wilcannia.
Finally to Menindee but halted here by rain.
72 DAYS – 3731Km TOTAL – 2419Km TOWING
---
2016 The Rest?
First – Menindee to Gunning for 2 weeks house sitting,
Second – Gunning to Firefly f0r 4 months Farm sitting.
Third – Firefly to Brisbane for the end of the year and Christmas
210 DAYS – 8065Km TOTAL – 3047Km TOWING
---
2017-1 Western NSW
First a small trip to Lake Leslie at Warwick and back to Brisbane then off to Western NSW via Murwillumbah, Tenterfield, Inverell, Narrabri, Wilcannia, Broken Hill and to Tibooburra then return via White Cliffs, Cobar, Brewarinna and Walgett and back to Brisbane crossing the border at Texas.
140DAYS – 6866Km TOTAL – 4350Km TOWING
---
2017-2 Cairns and Return
Cairns and Kuranda via inland to Charters Towers, then via Townsville and the Coast; return via the Coast to Brisbane
126 DAYS – 6644Km TOTAL – 5163Km TOWING
---
2018-1 NSW and Brisbane – Murray River
First – A few days at Lake Clarendon and then a loop to Uralla and back.  Then a few days at Canungra returning to Lowood.
Second – Lowood to the River Murray inland of the Great Dividing Range
91 DAYS – 4245Km TOTAL – 2969Km TOWING